Callygraphy Wall Mirror In the Mosque
The mosque is one of the places of worship for Muslims, if you look at it in the current era it looks very majestic and beautiful. The wall decorations inside are very elegant, this amazes many people. Most mosques choose Callygraphy Wall Mirror decorations, as a complement to the walls. Of course, this ornament is often found in other mosques, right? This Arabic letter art painting, can be applied as a wall decoration. In addition to providing beauty, Arabic calligraphy can also bring rewards for those who read it. Calligraphy is the art of writing, beautifully known for a long time.
This art itself is more known or famous in the Islamic world. This is usually taken from parts of the holy book of the Koran. In this art, the elements of beauty are depicted, in every form and pattern. At this time you also find a calligraphy wall hanging project, in a mosque located at SMA 6 Surakarta. For mirrors that are installed 2pcs with the words Allah and Muhammad. A mirror with Arabic calligraphy engraving, is also a suitable focal point to be presented. Coupled with the gold color around the mirror, making it look more luxurious and elegant. In addition you can also apply it to the walls of residence, respectively.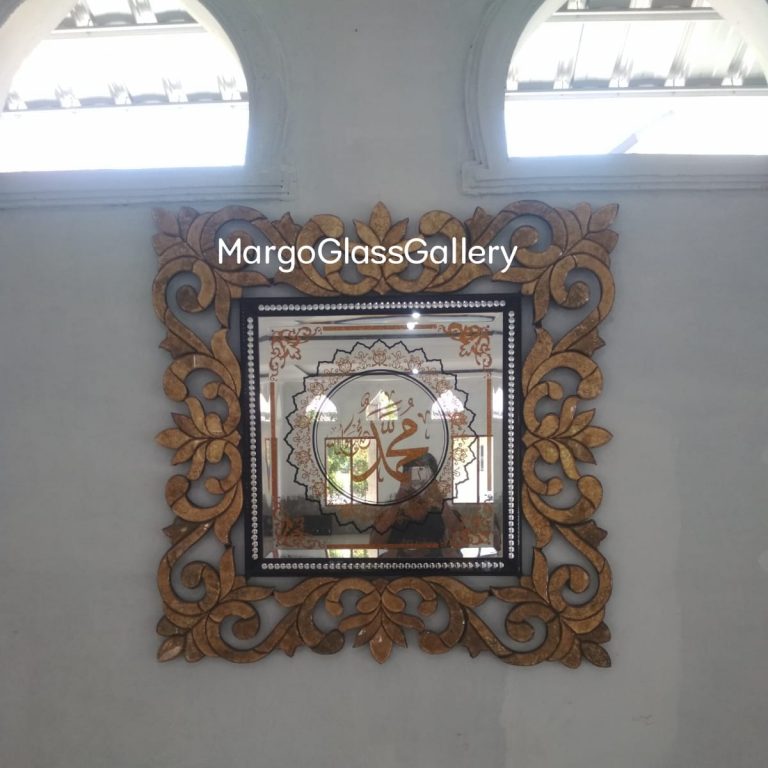 Making calligraphy as an element in decoration, be it a mosque or a room has many benefits.
Creating beauty
The beauty of calligraphy as a work of art has long fascinated people from various civilizations. Choosing this decoration as a complement in a room, of course, will give its own color. Moreover, its application which is not only one, will increase a very charming impression.
Motivation
This wall decoration not only affects the interior in a room. But it also has a psychological impact on the people in it. Decorations that contain many sentences from the Koran, and so on. Which of course has a deep meaning and content for Muslims. By reading the sentences listed in the calligraphy, of course, will provide encouragement and motivation. To improve the quality of our worship of Allah SWT.
Visit our Instagram social media for more catalogs.
So how are you also interested in using it in your home? If so, please contact us for more information. For other categories please visit our website. Thank you
Our Online Store
https://www.tokopedia.com/margoglass
https://shopee.co.id/margoglass2