margovenetianmirror.com- Adding Antique mirror glass to a room as a complement to the interior has become commonplace. Did you know that its placement is not only in the main room. By applying a mirror in the kitchen, it is also a very attractive choice. In addition, it is able to inject a glamorous impression and accentuate the most classic impression. Not only that, the reflective surface can reflect light back throughout the room. Finally, it can increase brightness and add depth to the impression.
Then do you know, what is an Antique mirror wall? This type is a mirror that is identical with black spots on its surface, so it looks ancient. Even so, this element is in great demand, especially art connoisseurs to the general public. The design is different from other types, making this item has a very high artistic value. Along with current technological advances, this mirror is also used as a wall decoration in the kitchen. That way the kitchen will look more elegant. Well, here are some parts of the kitchen that are suitable for mirrors: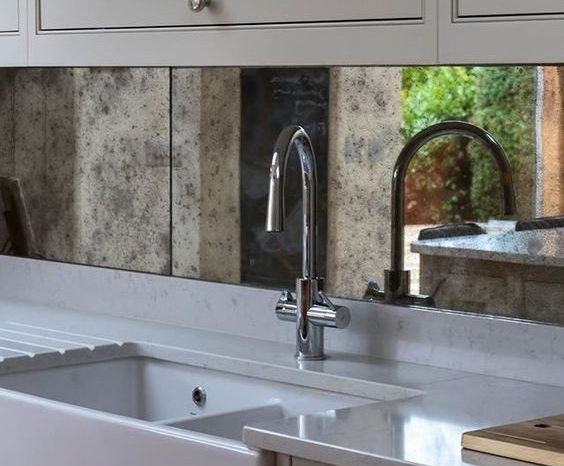 Smart mirror placement can improve your kitchen design in several ways. As mentioned, mirrors can reflect light, thus making the kitchen feel more spacious, open, and bright. This means mirrors are very effective, in a small and dark kitchen. With its placement, it is able to turn a gloomy space into a comfortable cooking place. To work around this, you can use Antique mirror wall tiles.
Place it on the back of the stove
You can also place it on the back of the stove. Its use is very beneficial, in addition to looking more open and bright. Mounting it on the back of the stove, it will allow you to easily supervise small children. The mirror in this section can reflect shadows, and create the illusion of a wider space. Therefore it will create a glamorous impression.
The last part is the kitchen wall, in this section you can also add an additional mirror. In addition to showing a luxurious impression, adding a mirror to the kitchen wall will make it even more beautiful. Therefore, install it in your residence. With the creation of this, of course, will provide comfort for everyone who looks at it.
Let visit our social media Instagram for our other catalog
So, those are some tips that you can use as a reference to make the kitchen more elegant. The types of antique mirrors are quite diverse, one of which is the Antique mirror bathroom. You can also add a mirror in the bathroom, to make it look more aesthetic with this type. You can get the type at the Antique mirror company.
Thus the article that I can share, may be useful. Thank you
Read more articles
Please visit our store Online:
https://www.tokopedia.com/margoglass/product
https://shopee.co.id/margoglass2
By Tarum