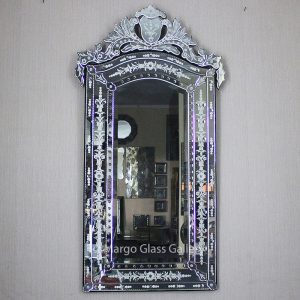 Showing the world the impression in the interior can be done in several ways. in the world of interior design, with large Venetian mirror is known as the creator of the impression that the strongest and most rapid. The presence of a mirror in the room will quickly steal the show and left a strong impression in the memory of the beholder. Craft glass ornaments on the frame surrounding the mirror perfecting the feel of the room.
Armed with such knowledge, a public facility-based services in the solo, glass supplier from Indonesia brought the concept of space is chic, luxurious, and elegant. the impression of luxury and elegant presented with a large framed mirror featuring a classic. the frame itself is made of a mirror, but was given a subtle form of carved ornaments. if carved in Indonesia known as Glass Craft or Ukir Kaca. Sharp angle corner edges notched ornament wonderful, with a beveled on each side add to the beauty of the mirror.
Why should venetian mirrors are to be chosen? Venetian mirrors are well known for its beauty since hundreds of years ago. Although in the old mirrors saying, but it is still attractive as the interior to complement the design of laying them. That's probably exactly why the classic design venetian mirrors.
The owner of this place was that a large Venetian mirror that hangs on the wall just enough to put a mirror less with the model, the same shape and size in a place adjacent to the first mirror. As a result, the concept was applied to a symmetrical arrangement of the wall to make the look more stunning.
Posted by Margo