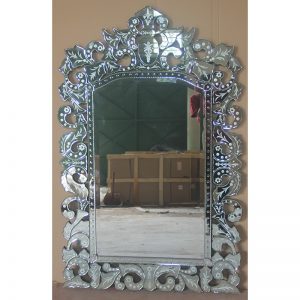 Venetian mirrors is the art of glass Crafts. It was said Venetian mirrors taken from the word Viennese. As for the Indonesia Venetian mirrors introduced by the Dutch, Britain, which in 1800 years old Indonesia was colonized nation. By the Indonesian name for Venetian mirror is glass carved. At was time, which many war in Indonesia resulting in man Venetian mirrors was broken. Because the Indonesian people had never seen for Venetian mirror so at the time is as valuable antiques art. But there are parts of the broken glass so it did no be functioned.
From there comes the idea to repair or replace broken parts reply Venetian mirrors. Pieces of plain glass in the picture are subject to rupture. After that the glass on the bevel or the policyholder with a stone and puree in a way in the scrub with bamboo skin until the bevel smooth. Then the park glass is on the back of the engraving or carving use stone, so in getting carved flowers, birds, trees on the glass, etc. Eventually emerge from it again to create new ideas. Although at that time for the design mimics the design of existing ones. Due diligence and a strong sense of the desire, Venetian mirrors already widely in production.
Venetian mirrors from Indonesia are still made ​​by handmade process and improvised equipment. But nevertheless turned out Venetian mirrors from Indonesia has its own blistering power. Due to its beauty and neatness apparently until now Venetian mirror is still a lot of interest. Good for interior home, hotel or office. And now in addition to art glass venetian mirrors can also be made ​​into furniture, ornaments on the table, as the style is beautiful and perfect for decor room.