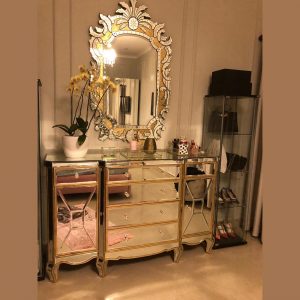 Venetian mirrors from Indonesia can provide distinct elegance in the room.
By: Sri Margo waluyo
The presence of glass engraving craft in Indonesia is not yet quite old. For the Venetian mirrors begun on around 1980 year. So still relatively new. But for style venetian mirror has many enjoyed by many people in the world. A craft which created the island of Java in Indonesia that produces a stunning little piece. Of pieces that can produce a series of design elegant. Therefore venetian mirrors are also in the interest of the class of the king's palace as well as for decosari home.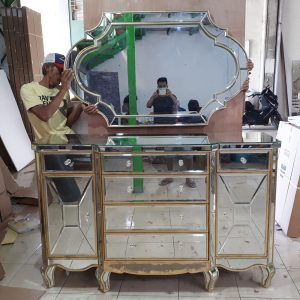 Venetian mirror artwork at first that the inheritance from father to son along with a group of UKM (Usaha kecil menengah) in Indonesia finally began to make mirrors in various styles and sizes. Venetian mirrors from which turns out also in the interest of the aristocratic and interior designers from Europe. venetian mirrors are made by individual items, pieces of glass in accordance with its design and after each of the edge of the bevel. and on the back of the give carving as the end of the process. Venetian mirror mirror still plays a functional role because it can provide illumination in a room or a room without much natural light. Some designers reckon with give venetian mirror wall decoration home can provide natural lighting. The mirror was intended to mimic the natural light of candles to illuminate the room. Because nobles Indonesia or Europe has discovered the beauty with venetian mirrors.
They hired craftsmen to create mirrors venetian addition to being a decoration, also to show off their wealth to their friends. we often find venetian mirrors hang in homes and palaces. And their craftsmen still create up today. No wonder the current which is derived from thousands of designs already Indonesai. at first is quite antiq venetian mirror and the impression is very expensive. Fortunately, you can currently find a reproduction that is much cheaper and can be obtained in various types and ukuan and cost ranges that would fit with modern decor too much more conventional.
A large venetian mirrors can be turned into a focal point of the residence or or dining room. More compact Venetian mirror can operate well in a bedroom or bathroom. if in mengahadap hanging in front of the main door of your house is said that the Javanese can protect your home from negativity. Provide a mirror alone will be able to give a different feel in decorasi home and you will bring vibrance with more light and makes the room look quite spacious and bigger than that. You also can appreciate the beauty of the mirror and impress your friends during a visit to your home.