Do you know what a Convex Wall Mirror is? This type of mirror is a mirror that is further processed, so that it can form a design like this. At that time, the use of it was not much loved by the people of Indonesia. And it is more dominant in favor of foreign residents, because in addition to its unique shape it also offers considerable beauty. Over time, the trend of using mirrors began to enter Indonesia and is growing quite rapidly at this time.
It is this mirror's virality that makes glass craftsmen, especially MargoGlassGallery, participate in launching and developing it to become various types. We have long been a mainstay of launching unique, and interesting, items. Until now, the use of convex mirrors is a must-have.
Well, here are some examples of types of convex mirrors that you can use as references for residential decoration.
Different types of convex mirrors
1. Antique Convex Mirror
The first type is Antique Convex Mirror, this type has classic motifs so it is very suitable for use in vintage-themed residences. For the motive itself, if observed by ordinary people, at first glance it looks abstract and directionless, but for people who are connoisseurs of art, this type is what interests them the most. Until now, this style has become the talk of the community, besides that its sales are also selling well. You can display this mirror on the living room wall, to attract the attention of your guests. Surely anyone who visits your home will be amazed by the beauty of this type of mirror.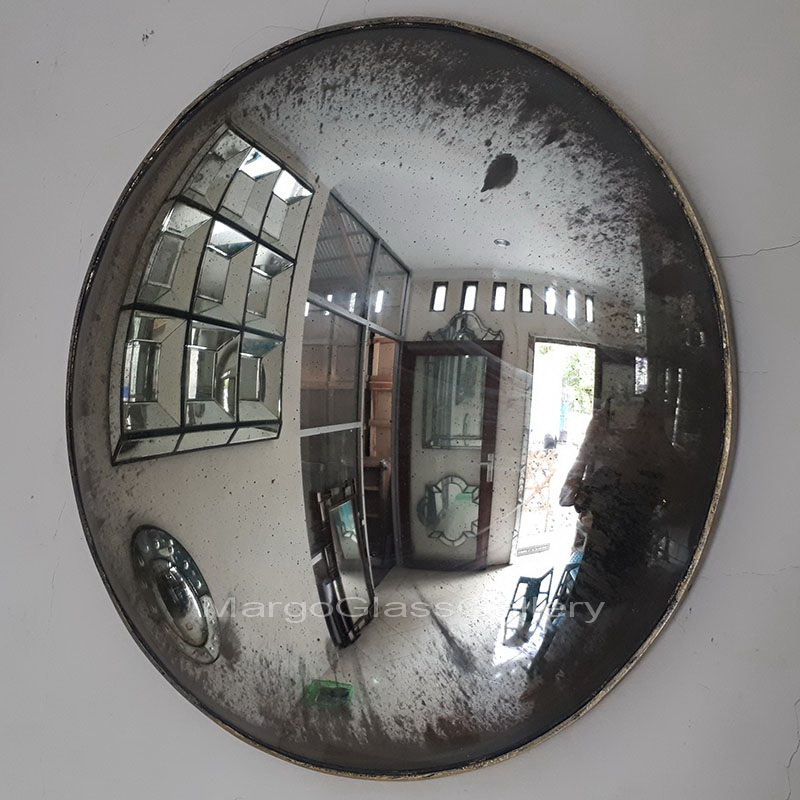 2. Blue Convex Mirror
Next is the Blue Convex Mirror, generally this type is quite easy to find on the market. This mirror is also widely used for decoration in residential areas, its elegant and harmonious color adds to the beauty of the house. Many people say the color blue brings calm and freedom, this color has a very deep meaning.
You can combine it with a slightly darker wall color, so that it brings out a more peaceful feel. For its application, you can apply it to the walls of the living room, family or terrace of the house. For those of you who want to use other colors, we provide several options such as silver, red, brown, green, and many more.
Let visit our social media Instagram for our other catalog
3. Large Convex Mirror
Apart from that, you can also find other options such as this Large Convex Mirror, for those of you who have a large enough room, you can really use this large mirror. For the size itself, it usually ranges from 100 – 200 cm, but you can still customize the size according to your individual needs.
4. Small Convex Mirror
Well, for those of you who don't have a lot of free space, but still want to use this type of mirror, you can use a Small Convex Mirror. With this minimal size it really helps many people, for its own size, which is 50 – 80 cm. What is certain is that it won't take up much space, yes, to create the impression of a wider room you can display it on the living room wall.
So that's a little explanation about the convex wall mirror that is currently viral, and in the end it was launched with various types to be shown to the Indonesian people in particular. That's all we can say, hopefully it can add insight to all of you. Thank You
Let visit our Pinterest for our other catalog.
Please visit our store Online :
https://www.tokopedia.com/margoglass/product
https://shopee.co.id/margoglass2
Also read our previous article!!!
This Is What Would Happen If A Convex Wall Mirror Is Installed In Your Home
By: Tarum