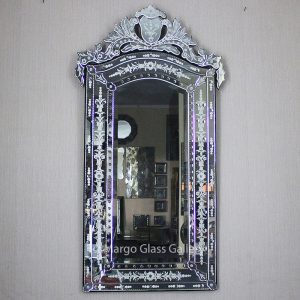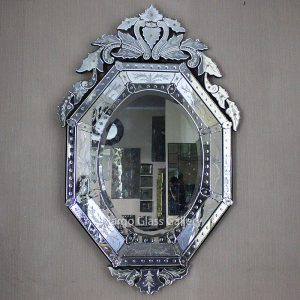 Ceplok is a small park that serves as the cover of every connection on the Venetian mirrors, glass normally used are 5mm thick glass with a mirror. Remaining the park will generally dispose of, surely with such conditions is very detrimental to craftsmen, because they could not use it anymore, therefore the craftsmen glass appeared the idea to use an expensive item to be made into fried, in Indonesia is named for its Ceplok.
How make ceplok? the way the author is 5mm thick glass with a mirror on a box or rectangular pieces with a size usually 4cmx4cm or 4cmx6cm, after which the glass in the bevel to form a circle or oval, then the bevel to form the desired pattern. Certainly is in need any special skills or thoroughness and patience to make it. Ceplok in the manual and make sophisticated tools so often mirror the craftsmen can produce only 50-100 pieces per day. As for the design, there are roses, boxes, ovals, stars, flowers, leaves and many more. Each of the top small fried gave ornaments as well as the cap side up and perfected, in the middle between 5-10mm to hole on place the mounting screws. There is usually a way to install using glue or put a hole in the center and the screw. In general each of the mirrors requires 4 to 24 pieces.
The main function is as a cover for the sunny side of each connection in Venetian glass mirrors, more beautiful when seen and can also complement the authenticity and give art itself. Therefore have an important role as fried complement, almost any size of Venetian Mirrors using ceplok in every part of the connection or at any angle, whether small, and medium, large and jumbo.
It turned out that for the moment venetian many make the choice for home decoration, with a choice of modern or classic style design. but it can not be separated from the presence Ceplok as a complement.