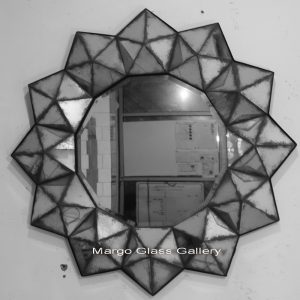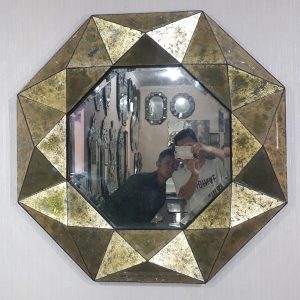 Venetian Mirrors: Bubble mirrors craft is art glass manufacture.
Motif bubbles mirror a lot lately in the search by collector art, or interior designers, especially those of Europe or America. Good to combine with decorative frame for frames or furniture. Because its design is simple and flexible, it is very suitable in place anywhere. If the bubble design a cursory look just likes the bubbles in the water, but by the glass artisans, bubble mirror may be items that have a high artistic value, depending on the size of the bubble adjust its course. Therefore we invite you back for a moment to simply knowing how to make for bubble in manufacturing.
Glass used is 5mm thick and kind of natural or plain, cut glass at first like form the desired pattern, such patterns of circular, oval, rectangular, or square octagonal. They usual for the frame or the edge of the glass surrounding the hands of, usually 7-10cm wide glass, after which the glass in the paste in a stone that has been in a semicircle, the type of stone used is a special stone, usually can be purchased it shop building, after glass to form a new circle in the puree with red seeds, to return to the original color is clear.
After the finishing process or bubble closure with nitrate, in this process there are two choices, nitrate can be made new, or create a bubble mirror in antiques, but for now many are ordered to bubble mirrors antiques, because in addition unique, also impressed antiques and elegant. Although this is new but made to give the really like a very long time, perhaps as a mirror of hundreds of years old then. Bubble mirror wonderful addition to furniture, it is also very elegant for interior wall mirror decoration or decorate. No wonder the manufactured glass recaived orders from the costomer with a variety of different designs and styles, especially bubbles mirror those of the buyer.
Posted by Margo glass