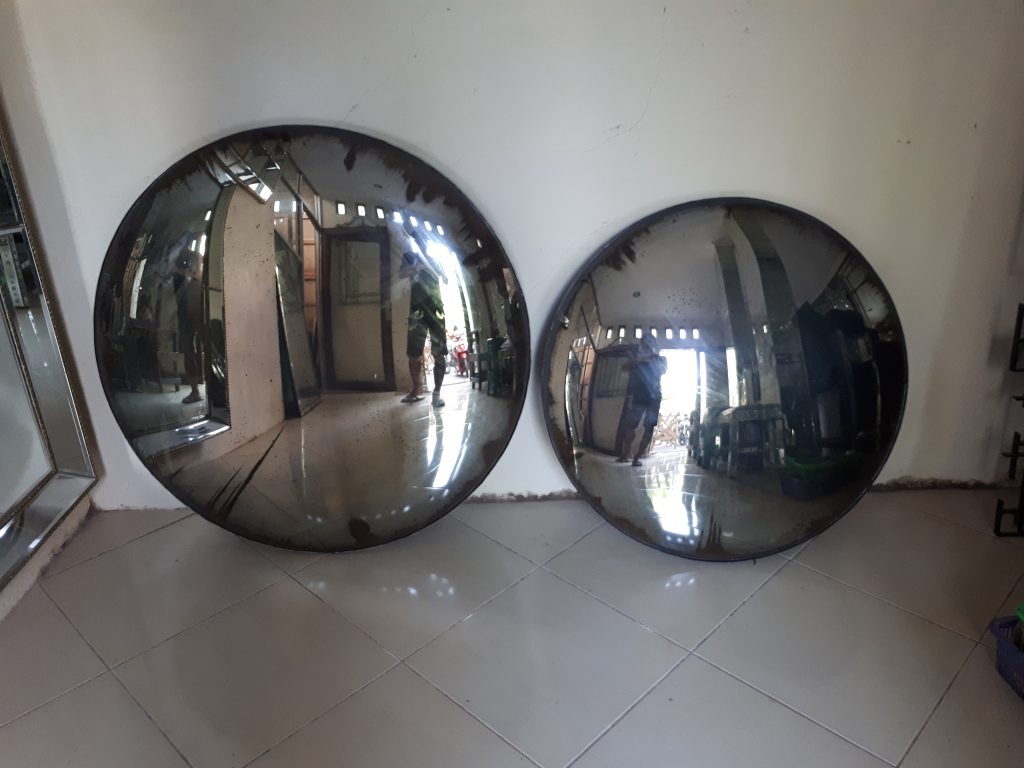 Mirror a Mirror has not become a rare item for us because we have found it everywhere. When in the living room there are mirrors as decorative mirror walls, in the bathroom there are mirrors as bathroom mirrors, bedrooms have mirrors as decorative mirrors, or the walls of the house are as wall mirrors decor. We have now encountered many mirrors just flat with beveled or paintings at the top and bottom known as Venetian mirrors. Here we will convey a lot about mirrors that are not flat mirrors but are known as convex mirrors.
Homeowners do not hesitate to pay expensive for designers to design the interior of their homes. Also willing to spend more expensive funds from the building just to fill the interior walls or interior furniture. Of course, only one goal is to provide beauty, comfort and satisfaction when occupied. With convex mirror I will invite you to see its beauty when it becomes a dinging decoration. Here we will convey a lot about mirrors that are not flat mirrors but are known as convex mirrors. Convex mirrors have now become a lot of switching functions. Initially these mirrors were only used to help us see the other side when placed in a junction or road bend when driving. Or become a mirror to help us when we want to see things bigger. But here many convex function as decorative mirror walls.
Convex mirrors have various types and sizes, from small to a maximum size of 95 cm. This mirror is due to the development of manufacturers of Venetian mirrors and Mirror glass suppliers. Because the same process as the windshield is burned and has a good mirror appearance, the manufacturers finally combine these mirrors with other mirrors, either Venetian mirrors with bubble round mirrors or Convex mirror oval with iron the edge frames. And convex mirrors are developed as wall decorations. Margo Glass Gallery always tries to develop Convex Mirror as a wall decoration with a magnificent and luxurious impression of course to inspire interior designers to work with these mirrors. Detail of the image can be seen on our product category.
One of these mirrors is convex mirrors with iron frames. This mirror has a variety of sizes from 40cm, 60cm, 80cm, 90cm and The large convex mirrors 95cm in diameter. The color of gold or black on the frame surrounding this mirror serves as a barrier to the convex mirror can also function as a protection against impact. Additional chlorine and antique medicines at the time of making nitrate mirrors produced a vintage impression such as mirror 19th century convex mirrors in the past. This mirror can be hung in addition to itself can also be hanged together, for example, 3 mirrors in one space by hanging parallel to the horizontal or triangular shape of the same size.
Besides being made antique, Round convex mirrors can also be made distressed. Distressed convex mirror is a heavier antique finish mirror. So it's like year's 18th century mirrors. For these mirrors, you should choose a large size. Convex mirrors can also be combined with wooden frames. Of course, finishing mirrors will follow the style frame.

OK !!!!!!!! Friend. While this is first and next Sunday I will share how to make convex mirrors.