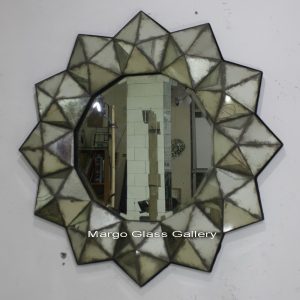 Mirror became an instant solution to bring a broader impression on a small space, like a corridor. Installation mirrors unique way to make it look more attractive. We submit the following tips mirror mounting.
1. Frame less mirror that you want to install to cover part or all of the walls should be covered with plywood with a thickness of 3mm-5mm pre-taped to the wall. With the aims that arise quickly mirror black spot or mildew. Use screws and bolts special glass to provide security during installation. And small accessories pair of glass to cover the screw.
2. For wide field wall, choose a mirror that thick (minimum thickness 5mm mirror) so as not to crack or break, but if the size is not too wide to use the mirror with 3mm thick.
3. Put a mirror close to a light source such as pendant lamps, table lamps, or lamps attached to wall to maximize the interior space lighting Efex.
4. not only on the wall, it also mirrors can be mounted on the ceiling as a drop ceiling. For safety, make sure the mirrors are fitted with strong and add the trim around it, with a view to retaining and also beautify the room.
5. If you have an interesting artwork, put a mirror in front of him so as to generate an artwork that can be enjoyed from the other side of the room.
6. Putting a mirror in front of a window that leads to the park can include spectacular view into the room.
7. As a variation to beautify the mirror, use a slide projector sandblasting way glass, antique mirror glass and can also use glass mirrors carved according to your creations. Style vanity with Venetian mirrors would be more artistic!
8. besides mirror paired with artwork, Mirror makeup is also great paired with a console, cabinet wall or table either from wood or mirrored furniture.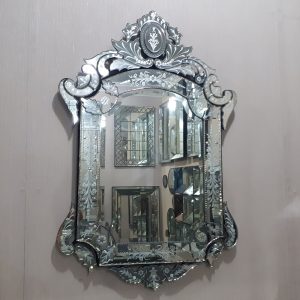 We have to say in detail how the installation of a good mirror, may be helpful. Please visit Margo Glass Gallery to get the various styles of makeup especially for Venetian mirrors.