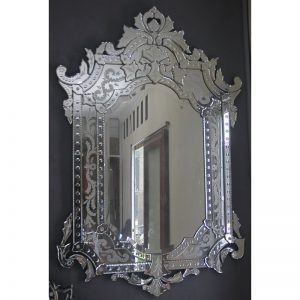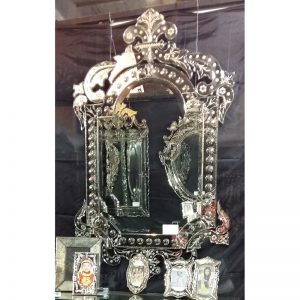 A Venetian mirror not only has the practical purpose of the reflective mirror, but it is a true piece of art with the intricate glass work on the frame. Whether it is a cut and etched glass frame, or hand blown glass adorning it, these mirrors are stunning. They add glamor and style to a home and can be a focal point in any room.
Venetian mirrors have their history as far back as the 16th century. With the famed practice of Venetian glass blowing, these two arts were combined to create beautiful works of art. The glass for the mirror was often made of sheets of blown glass, an art in and of itself, and then it was either decorated with more blown glass, sometimes very elaborate and intricate; other times it was etched through a careful process to create these beautiful pieces.
The most common types of Venetian mirrors are the etched glass and the blown glass pieces. The etched glass ones are a bit more common and are stunning with the different shapes and adornments. The mirrors are hand etched, cut, beveled and polished to create stunning filigrees and borders on the piece. Sometimes the pieces remain fairly simple with a delicate etched border, sometimes they can be quite elaborate incorporating colors and attachments of etched and beveled glass.
With the glass blowing, pieces of glass are blown and then attached to the mirrors. These pieces can be flowers, tubes, trumpet shapes, rosettes or other fantastical designs that when grouped together make an awe-inspiring piece. Often colors are used whether in subtle or bright tones. The artistic value of these mirrors is quite high.
Of course, Venice would be a perfect spot to buy a Venetian mirror, but that is not possible for most people. The mirrors are available at many retailers, even online stores. Make sure they are a reputable dealer; even buying a re-creation is a big purchase. If the mirror is being shipped, find out the process and make sure the mirror is guaranteed if it breaks or is damaged. find vertical and landscape mirror for on the wall.
Once the mirror is purchased, the placement becomes the important decision. No matter the size, the piece will be stunning and needs to be somewhere it can have the attention it deserves. Remember, when hanging a mirror, it should reflect something pretty, perhaps a nice view out a window or a favorite piece of art. It will also reflect light to add to the ambiance of the room.
A Venetian mirror will work in almost any style, either adding to the romantic feel of the decor or adding an ornate, whimsical touch to a traditional or modern room. This will be a piece that is sure to a favorite.