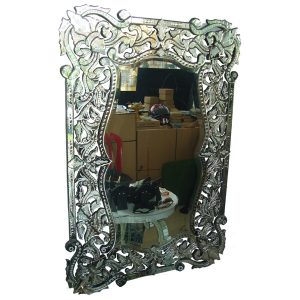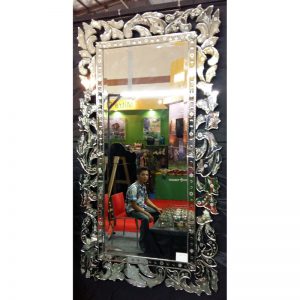 Glass hanging on the wall of the house as an additional decor becomes important things to be done. We provide a solution for it with carved bubble in the frame mirror. This frame is quite a modern of minimalist design of venetian mirror. With the size of the sphere diameter 3-4cm provide its own style. Engraved bubble is not the result of paint, but the result of scratches made ​​with a manual hand made. Whereas for how made is 5mm thick plain glass with the scratched in the rough stone. Because this process early so be careful so that scratches forming spheres. After that, the dots in the puree with smooth stones up into spheres with a diameter of 3-4cm. to process at puree again finishing with wood by the rub until the color changed into plain glass or glass base color.
Venetian mirrors with engraved bubbles do have a special impression to the owner. It will impress even funny when we're right in front of that sphere. Our nose will look bigger, the mouth, too. When we feel sad with sphere in front of it will make laugh. Other than round dots were also made ​​with an oval design. Bubble oval is more elegant, for the process also more difficult.
Make hangers for wall decoration with Venetian mirror was very easy. These designs can customize in a variety of wall colors. Can also be fused with other furniture you already have. way is also very easy to hang. Enough with steel spikes are 7-10cm in length, or with couplers wall. This mirrors the way care is also not difficult. Simply wipe with a cotton cloth in the wet with the cleaning. Note: do not spray water directly into the glass cleaner for a period of time will make the venetian mirror in the back will be damaged and moldy.