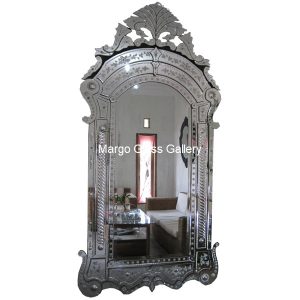 Determining the right choice for decors wall is difficult. Greatly in need of high artistic soul to get results like as with the theme of your home. Not a few of the designers to give a painting or other decoration on the wall to perfect the work. Art craft glass now it has a lot of experienced design changes. In old time glass used only to cover the window or door, as the household furnishings.Venetian wall mirror ibeautiful design for room hotel or room house.
At about this glass but also can make an attractive decoration for your wall. Beveled process for around edge park glass complicated for processing. Wall mirror of art glass Venetian mirror in the know today have a variety of shapes and sizes. Like the oval mirrors, rectangular mirrors, mirror and the other around. Wall mirror also have a variety of colors. No wonder in this modern age many become a wall of glass as an option for room decor.
Due to the natural properties of glass so the glass walls of the Venetian mirrors are very harmonious in the mix with a variety of wall colors. Venetian wall mirror is original hand made. Add craved on the back of park mirror can make elegant style. Wall mirror for Venetian mirror can put anywhere.