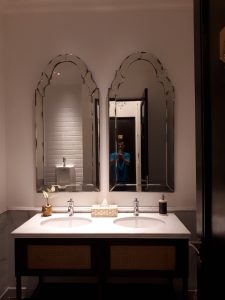 Using a mirror is an instant way to transform a small space becomes more widespread. what else is limited to Residence such as apartments. But no matter how small the space was definitely needed to keep the pantry or furniture, warm food, or washing dishes. simple design and innovative in the need to deal with problems in the pantry needs a small space.
side of the wall near the entrance of this apartment can be made in the pantry area with mini kitchen set made. measure the depth of about 60cm. for the kitchen set with a wide proportion of microwave and sink on the left side, while the remaining larger on the right side to the cooking area. then split vertically, with a clear designation, which is the bottom for a small refrigerator, dish racks and bins, the center for the sink and stove and microwave and the top shelf for storage.
because it is only in use at any time, where the stove and storage shelves can be closed with a mirror so as to resemble a closet. the top of the cabinet can also be in close mirror to converge. thanks to a mirror like layer, the space seem more loose, clean and tidy.when they want to use, simply transform the door mirror, you can go straight to cook.
in addition to the dual function of the mirror, the beauty of the design were also important. should any part of the beveled mirror edge  tilted about 1-3cm, but not dangerous when in the grasp can also give the impression of elegance. by adding or leaf carvings can add value to the classic style. so, when not cooking can also be used makeup mirror. giving pleasure while in front of him. sure to use a mirror with a minimum of 5mm thick, since in addition to rupture, quality nitrate / roso in the mirror it is not easy to mold or rust. may you never see black spots, or in the back of the mirror like a rusty? if ever that is, the process of attachment failed. how to setup mirror?
A. make sure the mirror is dry or wet.
2. use a special glue to the glass. provide adequate and equitable glue.
3. Make sure the wall or baigan for the mirror is not damp or watery.
Please visit this site in the manufacture of glass mirrors from Indonesia to get ispirasi and your ideas.